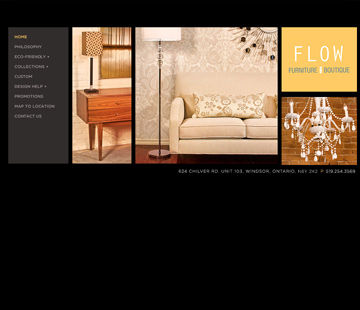 Flow Furniture
Project Category: Website Design
Created For: Flow Furniture Boutique

Spry produced a contemporary, easily adaptable website under the Spry Website Framework (2010 edition). Highlights include custom photography by Dan Reaume of the interior of the business, showcasing custom furniture, modern classic pieces and traditional home accents. Built to be search engine friendly, Spry replaced a Flash-based website that existed previously to be mobile-compatible and easily managed by Flow Furniture owners Terry and Joanne.